Webinar Recap: Creating an Inclusive Hiring Process
Feel like your organization has room to grow when it comes to creating an inclusive hiring process? Don't worry, you aren't alone! Yesterday, we hosted a webinar with Greenhouse and 78% of attendees responding to a poll were just getting started or felt they had room to improve when it comes to inclusive hiring.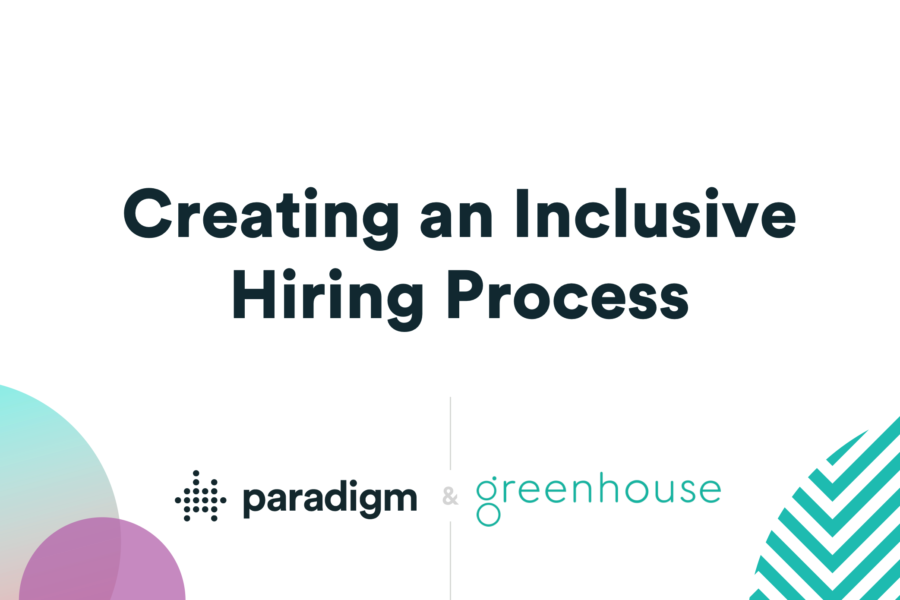 The webinar, Creating an Inclusive Hiring Process, featured our CEO and founder Joelle Emerson and Greenhouse Inclusion Product Strategist Gary Davis discussing the importance the hiring process plays in building a diverse organization and strategies organizations can use throughout the candidate funnel for better hiring outcomes. You can download the full webinar here—in the meantime, here are a few of their suggestions for designing a more inclusive and equitable hiring process:
Attracting a Diverse Candidate Pool
There are various ways candidates come into your funnel—through LinkedIn, your careers site, your proactive sourcing efforts, and referrals—and there are strategies you can use to boost diversity and improve outcomes in each of these sources. Joelle and Gary dive into specifics for each source in the webinar, but here is a sneak peek at tips that cut across every source: 
Job Descriptions:

Want to hire faster and build a more diverse workforce? The language you use in job descriptions matters—our research with Textio found that job descriptions using words like

best and brightest or

highly intelligent

take 11 times longer to fill than those that do not (you can read more

here

). It's imperative to avoid any language that's gendered, extreme or may trigger stereotypes in job descriptions, and you should avoid unclear or unnecessary requirements. And don't miss the chance to  highlight your commitment to diversity here!

Your Careers Page:

When a candidate looks at your employer brand and website, they're asking themselves: Who works there? What's the culture like? Will I belong? Be thoughtful about the images and language they will see. This is also where you should showcase your organization's diversity statement, information on ERG's, and any DEI recognition you have received.
Designing an Inclusive, Equitable Hiring Process
Once you've done the work necessary to build a diverse candidate pool, you want to be sure your hiring process isn't impeding your progress. Unfortunately, we often see bias and other noninclusive behaviors emerge throughout the hiring funnel—Paradigm has found that  88% of companies have pass-through rate differences between demographic groups. In the webinar, Gary and Joelle discuss:
Common Barriers:

Why is representation changing throughout the hiring process? There can be a variety of factors including bias that shows up and undermines objective, equitable decision-making. 
Improving Conversion at Each Stage of the Funnel:

Embedding a structured hiring process into each phase of the funnel will help lead to better hiring outcomes. The webinar outlines some strategies that work at each stage and shows you how to embed inclusion into your HR technology systems. 
Scaling Inclusive Interviewing:

Organizations are often challenged when it comes to building key processes and training hiring influencers to be inclusive. In the webinar, Joelle announced we will be releasing hiring-focused modules for our eLearning solution

Paradigm REACH

. With REACH, you can not only train your hiring managers in a scalable way, you can ask them to revisit key lessons when it matters—for example, right before an interview. If you'd like to be first in line for Paradigm REACH hiring modules, sign up

here

. 

Measuring Candidate Representation:

The most forward-thinking companies use data to guide their DEI efforts. In the webinar, Joelle and Gary discuss measurement frameworks and how you can use your applicant tracking system to pull needed data. 
Enjoy the webinar on demand here. 
February 26, 2020
If you would like to learn more about how Paradigm can help your organization create an inclusive hiring process, contact us today!