What Company Leaders Can Do To Address Anti-Black Violence and Racial Injustice
The blog was written by Aya Yagi with collaboration from Courri Brady, Evelyn Carter, Nicole Colwell, Colleen Cox, Joelle Emerson, Alexandra Tiant, and Katherine Ullman.
By now, you've encountered the countless headlines, tweets, and thought pieces highlighting recent incidents of anti-Black violence and racial injustice in the country. The murders of George Floyd, Ahmaud Arbery, Breonna Taylor, Tony McDade, Nina Pop, David McAtee and the daily threats made against Black Americans like Christian Cooper are only the latest and most publicly visible incidents. Every day, there are occurances — from microaggressions at work, to redlining and voter suppression, to the murder of an unarmed Black person — that make it clear just how far we are from living in a fair, equitable society. 
As a leader of a company, you might be feeling hopeless, you might think you don't have the language to speak up, or you might think this will all disappear soon. While your feelings are your own, we are here to remind you that none of this is going away soon (see Erica Buddington's tweet thread and NYT's 1619 project to start). Even if you've never spoken up before, you have an obligation, now, to step up as a leader and use your power, privilege, and platform to make a difference. Black Americans in your company (and everywhere) have their physical and psychological safety at risk. Now is the time for you to do the right thing, and lead.
Fortunately, there are tangible steps you can take as an individual leader of a company to make meaningful change. Whether you lead a Fortune 500, a tech startup, a mission-driven non-profit, or any other kind of organization, you can contribute, you can make a difference, and in this moment in time, you should make it your priority to do so. Addressing these events and the systemic injustices that have already been impacting your employees is an important way to demonstrate that your commitment to diversity, equity, and inclusion goes beyond just words. 
Below are four actionable steps that all company leaders—especially white and non-Black POC leaders—should prioritize to support their Black employees, actively work against racism, and make good on your organizational commitment to diversity, equity, and inclusion. We start with the quickest actions first.
Donate your money and time

Send a company-wide message to your employees

Share externally and amplify your impact through your network

Implement internal company efforts to support your Black employees, upskill allies, and build more equitable, inclusive company processes
Donate your money and time
One immediate step to take is donating your personal time and/or money to organizations that are committed to working against racial inequities. Below are a few different types of organizations you can contribute to.
– George Floyd Memorial Fund to directly support the family of George Floyd
– Louisville Community Bail Fund to bail out protesters protesting the murder of Breonna Taylor 
– NAACP
You should also look up social justice and specifically racial justice-oriented organizations local to your area 
And while you're at it, if you can, make your donation a recurring one or add a quarterly or annual reminder on your calendar to donate to organizations focused on racial equity on a regular basis. You can also consider matching donations—either with your employees or with your external network.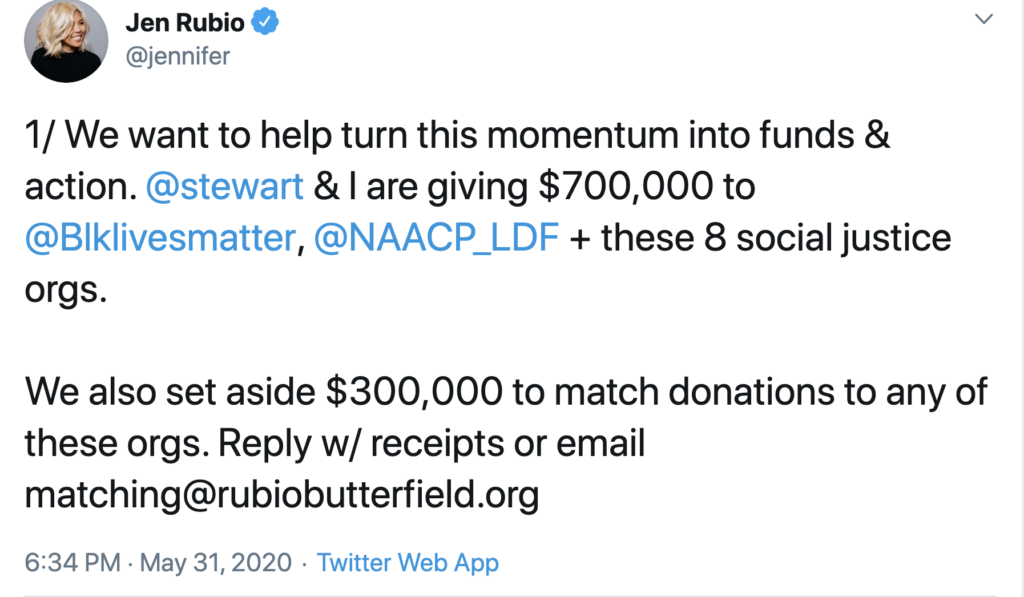 Send a company-wide message to your employees 
If you haven't already, communicate with all of your employees to acknowledge and recognize the injustice of anti-Black violence. Outline specific actions or commitments you are taking, and encourage everyone, especially Black employees, to take the time they need to take care of themselves. Silence speaks volumes (in a bad way), so you should say something over nothing, and find a way to thoughtfully, deliberately, and genuinely acknowledge what's happening and offer your support. 
As you draft your message, you might find that it's more transparent or emotional than your typical PR comms—that's because this is not about PR. It's about letting people know what you stand for, what you value, and, specifically, what you will not accept. It's about seeing, recognizing, and valuing your Black employees and the lives of Black people overall. It's about recognizing the pain, exhaustion, and frustration that many of your Black employees are feeling. 
Share what you are honestly feeling, and even more importantly, share what you're going to do about it. Three points you should touch on in your message:
Recognize the names of the people who have been murdered – George Floyd, Ahmaud Arbery, Breonna Taylor, Tony McDade, Nina Pop, and

so many others

.

Recognize that this is not a normal time, and proactively offer your support, especially to your Black employees. Let them know it's okay to take extra time away from work or to ask their managers for additional support (and then work with the managers to make it a reality).

Commit to actions that you personally are taking both in your capacity as a leader of the company and as a member of society. Remember our first tip to donate your money and time? Share if you've donated. You can also share books and articles that you are committed to actually reading and learning from. This is also a place to share specific steps you and your company are taking to improve your internal diversity, equity, and inclusion gaps (e.g., commit to conducting a pay equity review & making necessary adjustments across race and gender, assessing and updating your hiring processes, auditing your performance reviews for bias, etc.).
Sharing the above models what others (especially White employees) can be doing to support ending racial injustice. Don't just take our word for it—learn about the way other people are sharing how to communicate with employees and what actions to take. See Upwork's Dr. Erin L Thomas tweet thread here or Lily Zheng's LinkedIn post here.
Share an external message and amplify your impact through your network 
Over the past few days, we've seen many CEOs step up and respond personally, committing to donating their own money and/or corporate donations. A public statement is an opportunity for you to share with your current and future customers, employees, clients, and suppliers about what you stand for and what you believe in. Your employees are watching and noticing whether you'll take a stand against anti-Black violence in a time when so many are explicitly stating their commitment (see The Plug's ongoing database).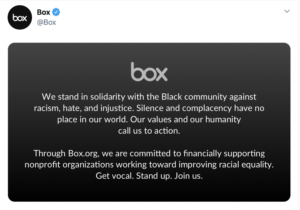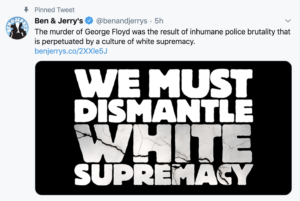 Show your solidarity and use your unique power, privilege, and platform to prompt your network to do the same by contributing funds, amplifying the voices and experiences of Black people, and doing the work to build equitable, inclusive organizations.
Implement internal company efforts to support your Black employees, upskill allies, and build more equitable, inclusive company processes
– BOOK: So You Want To Talk About Race, Ijeoma Oluo

– BOOK: How to Be Less Stupid About Race: On Racism, White Supremacy, and the Racial Divide, Crystal Fleming

– BOOK: Just Mercy, Bryan Stevenson

– BOOK: Biased: Uncovering the Hidden Prejudice That Shapes What We See, Think, and Do, Jennifer L Eberhardt

– ARTICLE: Maintaining Professionalism In The Age of Black Death Is….A Lot, Shenequa Golding

– ARTICLE: 20+ Allyship Actions for Asians to Show Up for the Black Community Right Now, Michelle Kim

– FILM: 13th,  Directed by Ava DuVernay

– TWITTER: Some organizational DEI Leaders to follow and learn from: @ErinLThomasPhD, @INwithMichelle, @Katrina_HRM, @hutchamachutch, @drevvycarter, @ellmcgirt
As a leader, you have both the responsibility, privilege, and opportunity to contribute to making a real difference, both within your company and outside of it. It's complicated and difficult and necessary work so that we can build towards a society where we no longer have to create somber lists of Black people who are met with racism, injustice, and violence when all they're trying to do is live and go about their everyday lives. 
Reach out to us or another DEI firm if you need support. We're always happy to send research, resources, brainstorm ideas, and partner with you to act on your commitment to diversity, equity, and inclusion. 
June 2, 2020
If you would like to discuss more about what you can do to support your employees, contact us today!