You Can Now Access Paradigm REACH, our Online Training Platform, Through Our Website!
Bring high-impact training from Paradigm's experts to your team in less than 10 minutes 
I am thrilled to share a big Paradigm REACH update — we've launched a new online training platform where teams of all sizes can access impactful diversity, equity, and inclusion (DEI) training directly from Paradigm's team of experts. 
Over the past few months, we've been hard at work creating an online platform that makes high-impact DEI learning journeys accessible for any organization. With our Paradigm REACH platform, in less than 10 minutes, companies can sign up and get their workforce started on an ongoing DEI learning journey. 
Some of the features I am most excited about include:
Access to training from our experts on the topics that matter most right now, including allyship, microaggressions, anti-racism, unconscious bias, inclusive hiring, and belonging. We've been getting a lot of feedback from companies on the themes their employees want or need to learn more about, and with REACH, your workforce can learn from our experts.

Different content formats that help people learn at their pace. They can take three full courses, watch short microlearning videos, and download resources that will help sustain learning — workbooks help people track their learning and establish action plans, while discussion guides help teams bring learning offline to connect and brainstorm on next steps. 

The ability to create ongoing learning journeys. As we've been saying for years, "one-and-done" or compliance-oriented DEI trainings don't work. Now, your workforce can use REACH to continue learning year-round — our experts have designed four different learning journeys for users that help them upskill around allyship, inclusion, hiring, and managing unconscious bias. REACH can be used as a foundational learning to create a common DEI language within your organization,  it can be embedded into new employee onboarding, and it can complement instructor-led training and other DEI programs. 

A modern, intuitive user experience employees can access all of the content and track their progress from their customized dashboard.

An analytics dashboard that allows administrators to track learner progress, understand how their workforce is engaging with REACH, and identify most popular content. 

Organizations sign up directly through our website and invite employees, who then log in directly to the platform to access a growing library of DEI content.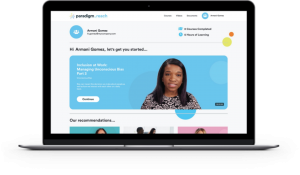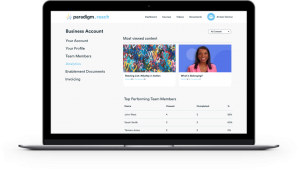 Over the past six years, we've learned a lot about what actually works to move the needle when it comes to diversity, equity, and inclusion. Our experts have pioneered research in the space, we've conducted high-impact, instructor-led training for hundreds of thousands of people, and in the past year, more than 30 organizations have implemented REACH using their learning management systems (which is still available). 
Now, with our new REACH online training platform, we want to make what we've learned and the content we've developed available to as many organizations as possible. 2020 has made clear that the ability to upskill a remote workforce around diversity, equity, and inclusion is critical. For many organizations, delivering and scaling ongoing instructor-led training simply isn't feasible, affordable, or accessible. We want to help all organizations move beyond one-and-done training, and our new platform is designed to do exactly that. With our REACH online training platform, a year's worth of access to DEI learning is available at a lower cost than a single, instructor-led training. 
If you're interested in bringing REACH to your workforce, or if you want to sign up for a free two-week trial, get started by creating an account here. 
September 29, 2020
If you have any questions about Paradigm REACH, contact us today!