Nearly 7 in 10 Americans Think Racial Injustice is a Problem, And Believe They Should Be Able to Talk About it at Work
Paradigm's Diversity, Equity, and Inclusion Update Explores How the Racial Justice Movement is Reshaping Corporate America 
In our latest report, we explore how the past 12 months have shaped Americans' views on racial injustice, and what that means for businesses. Using data gathered from a survey of more than 2,000 Americans in early May, conducted by The Harris Poll on behalf of Paradigm, we found that the past year has decidedly increased people's awareness of racial injustice, that the majority of people want to see organizations take action on racial injustice, and that people want their own employers to create an inclusive workplace. 
We've included some of the key findings below, and you can download the full report for more details, including breakdowns by race/ethnicity and age.
Key Findings
Evolving Views on Racial Injustice: A majority of people believed that racial injustice is a problem in the United States, and they now think it's a bigger problem than they thought it was before the events of the past year.


While a majority of people shared this perspective across all demographic groups, perspectives on racial injustice varied by age and race/ethnicity.
People's Views Shape Their Expectations of Businesses: The majority of people — 66% — think businesses should take action on racial injustice issues. People also want to talk about racial injustice at work — 68% said they believe people should be able to discuss the topic at work. While this belief was more prevalent with people ages 35-44, a strong majority of respondents across every age group agreed.

Most people also want their companies to invest in creating/supporting an inclusive work environment, with 72% saying they want their employer to invest in this area. While there was no significant difference in opinion among racial/ethnic groups, there were significant differences among age groups:

Roadblocks to Diverse and Inclusive Workplaces Remain: While people are clearly looking for inclusive work environments, many are not finding them. Nearly half of respondents (49%) said they witnessed or experienced racial bias or discrimination at work in the past 12 months.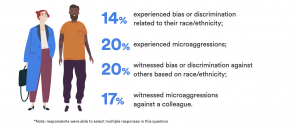 For more detailed data, download the full report here. 
Methodology 
This survey was conducted online within the United States by The Harris Poll on behalf of Paradigm between May 4-6, 2021 among 2,035 adults ages 18+, among whom 868 are employed full-time or part-time. This online survey is not based on a probability sample and therefore no estimate of theoretical sampling error can be calculated. For complete survey methodology, including weighting variables and subgroup sample sizes, please contact Nicole Colwell at Paradigm.
May 19, 2021
For complete survey methodology, including weighting variables and subgroup sample sizes, contact us today!